It's the time of the year where the networks and fans gather together in an annual dance of Save our Show-itist. Everyone is stressed and upset at the unsettled nature of everything – is Terminator: The Sarah Connor Chronicles gone? What's going on with Chuck, Reaper, etc.  Instead of wasting energy being worried about things we have little control over, let's appreciate the programs that survived. I thought it's time to take stock and see what "genre" shows are in no danger of being cancelled. I'll start by saying for some reason Navy NCIS is still going. Who watches this show?
Burn Notice
Burn Notice will be back this summer, I haven't seen an official announcement from USA Networks, but it had a fantastic year creatively and financially so there's no way USA is going to kill this goose. Can't wait for the new season to start, last year's finale had Michael being completely set free and now he's in the wild so it'll be interesting see what they do with that.
Cold Case
I'll start with a show that I could be proven wrong on, but come on Cold Case gets over 10 million viewers a week, this despite the fact that it's an amazingly hard show to watch. It never airs on time due to CBS Football and other sports coverage so it's almost impossible to DVR. And it will most likely "never" be on DVD due to the incredibly high cost of music licensing so there's no DVD business.  But really, CBS is already invested in the show, what else do they have to put in that horrible "floating" time slot?
Supernatural
I'll have to check with our resident Supernatural expert Marla, but I believe it's already been confirmed that it's coming back next year. I've been late to join the Supernatural bandwagon, but now I'm dancing to that tune.  It's back on this week after another 2 or 3 week break, with 4 eps to go. This is another one of those shows I think would benefit by having a definitive end game and not overstay. I'm not saying 5 seasons should be enough, but they've been hinting for 4 seasons now that they know where they are going with all of this – an unavoidable Sam and Dean battle at the end.
Fringe
I don't get the Fringe love, but the ratings are strong – thanks to the post Idol slot and while there's been no official announcement (as far as I'm aware), I'm 100 percent sure that Fringe is safe. Which is a rarity on Fox.
Smallville
Season Eight has already been announced. How old is Tom Welling? 40?  No, Seriously.  I stopped watching Smallville way back in Season 3 and for some reason started watching it again this year and it's been surprisingly good and consistent. My summer project may be to go back and watch the last 4 seasons on DVD/Blu-ray. I'm hoping the producers come up with a plan to end it in 8 and go out while they are creatively kicking. The producers are promising two major deaths at the end of this year, my bet is Chloe finally bites it. They even hinted at it in the Justice League episode when one of them said they had no idea who Chloe was.
24
It's back next year for an 8th season so I'm pretty sure Jack's not going to die from this season's poison gas. Rumor has it Eliza will be on board, it'll be set in New York.  I hope they bring Freckles back or spin her off into her own show. I'm surprised at how much I'm loving Renee this season.
Gossip Girl
I run hot and cold on this show, I like it well enough but all the long season breaks have ruined the momentum the show was building. I'll have to stick to DVDs in the future. While CW hasn't made any official announcement, this show is a smash hit by CW standards so it'll be back for a 3rd season. I'm just not sure what they can do since it seems like everyone is going to graduate at the end of this year, unless they do what One Tree Hill did and have another season with them still be seniors. Or they can do what OTH did and just skip them ahead 4 or 5 years. Which was actually a brilliant move by the OTH producers.
One Tree Hill
See the above Gossip Girl comments. That's a good paring and I think it's already been announced that OTH will be back next year.
Sanctuary
Sci-Fi's original program Sanctuary has been picked up for a 2nd season and is already in production. I did a post about this announcement last week.
Ugly Betty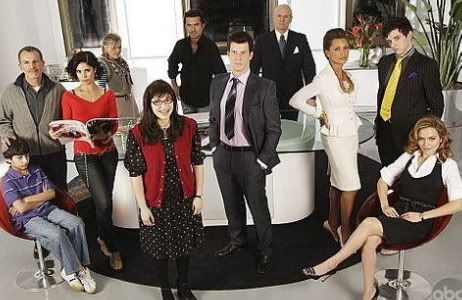 I enjoyed the first season, which I discovered on DVD, the last two seasons have been mostly terrible and it's suffering from the same syndrome that Gossip Girl does. The stories aren't strong enough to keep people (me) interested with all of these weird 2 and 3 month breaks. I'm not the only one because Betty's ratings have plummeted and it's considered a bubble show, but don't worry I can't see ABC canceling it.
Beverly Hills 90210
The season started off horrible, but the actors and scripts started to gel a bit in the middle but the last few eps have been terrible. I don't know what the ratings are on this but CW has already greenlit a Melrose Pilot. So I can't see them canceling this.
Entourage
All I know is that it is scheduled to come back, but I haven't heard when. Or seen any ink on this show at all. Maybe after Piven gets over his asbestos poisoning or whatever excuse he used to get out of his Broadway play. But I'm getting real tired of Vinny and the boys, so I'm hoping they come up with something new for them to do.It's one of those shows that I watch because it's comfortable, like an old friend, but I'm not sure if I like it anymore.