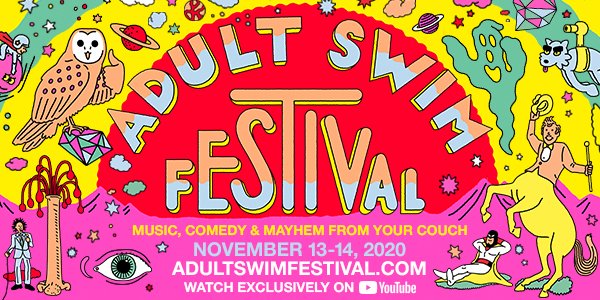 The Adult Swim Festival is back, and this year it is all online on November 13 and 14.  Exclusively on Adult Swim's YouTube channel, there will be musical performances, panels, and live chats with talent and creators from your favorite Adult Swim shows.  No more driving through heavy LA traffic or buying a plane ticket to get to the festival.  Instead, kick back, relax and catch all the fun from home.  It's free, and you can enjoy it from anywhere in the world!
Adult Swim is a WarnerMedia network launched in 2001 which offers original and acquired animated and live-action series, airing  nightly from 8 pm to 6 am (ET/PT) for young adults.  In 2018, the network introduced the Adult Swim Festival.  This festival was a fusion of music, comedy, and interactive games centered around the shows on Adult Swim.   As the festival returns for its third year in the midst of a pandemic, dancing and jamming with hundreds of people less than six feet apart is no longer an option.  But the show must go on, and it is now online for a global event on YouTube.
Live streams will have talent from such shows as "Rick and Morty" and "The Eric Andre Show.  Musical performances include Robyn Presents Club Domo, Mastodon, Kaytranada, and Run the Jewels x Cyberpunk 2077's music video premiere.
Adult Swim Festival merchandise will also be available.  Power to the People Face Masks were designed in partnership with Run The Jewels, where proceeds are donated to the ACLU.  Rick and Morty inspired a limited-edition Pickle Rick beverage and special edition Pringles chips.  Adult Swim Festival t-shirts, sweatpants, and socks are here to commemorate this year's festival.
https://youtu.be/Ffu_LU6KpQI
A schedule of the festivities are shown below.
For more information on the Adult Swim Festival, you can go to the web site below.  Enjoy!
Web site:  https://www.adultswim.com/presents/festival/index.html
Twitter:  @adultswim   #AdultSwimFestival
Instagram:  https://www.instagram.com/adultswim/ #AdultSwimFestival
Facebook:  https://www.facebook.com/adultswim/
Courtesy of Adult Swim and Warner Brothers