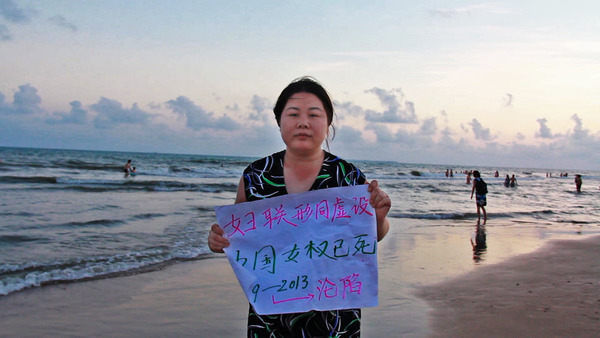 PBS' documentary series POV will air the documentary Hooligan Sparrow – the story of Chinese women's rights activist Ye Haiyan (above) who takes on a school principal and a member of the education bureaucracy who abducted six students (aged 11-14), took them to a hotel and raped them.
The film, the first by Nanfu Wang, was a selection of the 2016 Sundance Film Festival. Hooligan Sparrow airs on Monday, October 17th on PBS. Check your local listings for times and read on for more details.
 Women's Rights Activist in China Takes on Officials Accused of Raping Young Girls—And Pays a Steep Price
'Hooligan Sparrow' tells harrowing story of corruption and the woman who fought back—aided by social media and an intrepid young filmmaker—Monday, Oct. 17, 2016 on POV
"A whistleblowing documentary made with fearless guerrilla cunning."—Owen Gleiberman, Variety 
Speaking truth to power is dangerous in some places, including modern-day China, where corrupt government officials deal very harshly with critics.
They are especially displeased when their critics include an activist lawyer, outraged parents, a fearless filmmaker and a sex workers' rights activist with a wicked sense of humor. That's the story told in Hooligan Sparrow, which premieres on PBS's POV (Point of View) documentary series on Monday, Oct. 17, 2016 at 10 p.m. (Check local listings.) The film was an Official Selection of the 2016 Sundance Film Festival.
Hooligan Sparrow, Nanfu Wang's feature debut, centers on a crime that took place in 2013: A school principal and a member of the education bureaucracy abducted six female students 11 to 14 years of age, took them to a hotel and sexually assaulted them over a 24-hour period. When parents and their supporters demanded justice, the perpetrators insisted the girls were prostitutes.
The film starts with Wang introducing herself with the help of footage that escaped government confiscation. "That's me with the camera," she begins. "Those guys are watching me because of the camera. This is the story I captured before they took the camera from me."
Authorities also tried to silence Ye Haiyan (a.k.a. Hooligan Sparrow), a single mother who gained notoriety in 2010 for offering sex—for free—to expose the horrors in some of the nation's brothels. She also gave away condoms, claiming she was acting at the behest of the government. "We need some humor in our life," she explains. Her video went viral, as did a nude photo of her and other Chinese dissidents, including artist Ai Weiwei.
Fast forward to 2013, when Sparrow was joined in her support for the abused schoolgirls by Wang Yu, one of the very few female lawyers who specialize in human rights in China.
The penalty for protest, Wang says, can be devastating. "You can be sent to a mental hospital or detention center." Sparrow carried a sign taunting the prime suspect that read, "Hey principal, get a room with me. Leave the kids alone!" A video of Sparrow and her message went viral.
The authorities unleashed secret police surveillance, threats and government-organized mob violence and break-ins, much of it captured on film, including the May 2013 arrest of Sparrow on trumped-up assault charges. "You can kill me," she warned officials, "but you can't kill the truth."
Secret police kidnapped Sparrow and her 13-year-old daughter, drove them to a remote area and abandoned them and their worldly goods on the roadside. The state media conducted a smear campaign against lawyer Wang, accusing her of faking her credentials, and later arrested her and her husband, Bao Longjun, also a human rights lawyer. Both are still being held without trial. Her son was placed under house arrest, which has not been lifted.
Filmmaker Wang's life was threatened and some of her footage confiscated, though she was still able to make her documentary by fleeing on trains and buses in the dead of night and smuggling the remaining footage out of the country in August 2013.
"The chain of events I witnessed in the months that followed the protest shocked me," the filmmaker says. "I've never had illusions about fairness in China's justice system or the accountability of its government. But I never expected to see ordinary people turn on their neighbors who were fighting for their rights. I never expected to be attacked by screaming mobs just for filming on the street. I never expected to be interrogated by national security agents, and that my family and friends would be harassed and threatened by secret police.
"But this is the China I saw." And the China she now presents to the world.
About Nanfu Wang, Director, Producer, Cinematographer, Editor
Nanfu Wang is an independent filmmaker based in New York City. She was born in a remote farming village in Jiangxi Province, China. After losing her father at the age of 12, she was forced to forgo formal education and take whatever work she could to support her family. Unable to afford high school, she studied at a vocational school until she secured work as a teacher at a primary school at the age of 16. She taught herself English in her spare time.
After several years, Wang was admitted to a university's continuing education program, where she studied English literature. At the age of 22, she was awarded a full fellowship to attend a graduate program in English language and literature at Shanghai University. After realizing that she wanted to tell the stories of people who came from backgrounds like hers, Wang decided to pursue graduate film studies, first in the journalism school at Ohio University and later in New York University's documentary program. Wang holds master's degrees from New York University, Ohio University and Shanghai University.
Since completing her studies, Wang has produced short films that have been distributed on many platforms and translated into several languages. Her work often features the stories of marginalized or mistreated people. She is a recipient of grants from the Sundance Documentary Fund and Bertha BRITDOC Journalism Fund and is a Sundance and IFP supported filmmaker.
About Ye Haiyan, a.k.a. Hooligan Sparrow, Women's Rights Activist
Known as Hooligan Sparrow, Ye Haiyan has a long history of activism related to women's rights, child abuse and sex work in China. Under the name Hooligan Sparrow, she blogs avidly about women's rights and is best known for her protest in 2012 as a free sex worker at a "Ten Yuan Brothel" to expose the poor working conditions of migrant sex workers.
While her work has won her the respect of international organizations, she has constantly come under attack at home in China. In 2009 after she established a website that served as a forum for sex workers to speak out and founded the China Grassroots Women's Rights Center in Wuhan, police began to take notice. In 2010, Sparrow organized what is believed to be the first sex workers' rally in China, and afterwards she suffered several attacks at her home—the attacks were presumably orchestrated by local authorities. Most recently, Sparrow protested against a primary school principal in Hainan who took six girls to a hotel room.
A thorn in the side of local authorities concerned with maintaining social stability, Sparrow has been harassed, detained, physically assaulted, evicted, driven from various cities in China and experienced travel bans for her advocacy work. She is 38 years old and from a rural village in Hubei Province.
Sparrow currently lives in the city of Wuhan and continues her activism despite being placed under residential surveillance. Her passport was confiscated by the government in November 2014 and has yet to be returned.
Hooligan Sparrow is a Little Horse Crossing the River production in association with AC Films and Diamond Docs.
Credits:
Executive Producers: Andy Cohen, Alison Klayman; Director, Producer, Cinematographer, Editor: Nanfu Wang; Creative Producer: Peter Lucas; Co-Producer: Michael Shade; Graphics: Garry Waller; Music: Nathan Halpern, Chris Ruggiero; Writers: Nanfu Wang, Mark Monroe. Running Time: 86:46
Photo of Ye Haiyan, a.k.a. Hooligan Sparrow © Nanfu Wang