Tonight, Daphne Zuniga drops by for a visit! Delicious guilty pleasure MELROSE PLACE continues to mix it up with a combination of old cast and new cast mingling together. The CW has released the following description for episode six, titled "Windsor," with video clips.
DAPHNE ZUNIGA RETURNS AS JO REYNOLDS AND JENNA DEWAN ("STEP UP) GUEST STARS — Ella (Katie Cassidy) and Riley (Jessica Lucas) arrive at the Anton V photo shoot and meet the photographer former Melrose Place resident, Jo Reynolds (Daphne Zuniga). Jo feels that Riley's inexperience is preventing Jo from getting her shot, so Jo pushes Riley's buttons and insists on a topless shoot to help Riley get in touch with her emotions. Meanwhile, Jonah (Michael Rady) meets with a producer's development exec, Kendra (guest star Jenna Dewan), who invites him to have drinks later that night to discuss his film. Violet (Ashlee Simpson-Wentz) makes another play for Auggie's (Colin Egglesfield) attention, and Lauren (Stephanie Jacobsen) finds out about David's (Shaun Sipos) secret. Patrick Norris directed the episode written by Jonathan Caren.
I am actually enjoying Melrose Place and really enjoying seeing members of the original cast being integrated so flawlessly into the stories. When we last saw Jo, she was an ambitious photographer on the run from her abusive husband. She brings her camera along once again, this time to the photo shoot for designer Anton V, who was inspired in a moment of creative passion to drop the professional models and use a regular person for his latest campaign. Ella Simms is the clever, creative and opportunistic power publicist (played to bitchy perfection by Katie Cassidy). She's smiling on the outside while livid on the inside for being put in a position to represent regular person Riley for this photo shoot, instead of working with professionals.
Michael Rady plays Jonah Miller, the nice-guy, wannabe filmmaker, trying to keep on being nice while swimming in the shark-infested waters of Hollywood. And Jessica Lucas plays Riley Richmond, the sweet, girl-next-door, elementary school teacher, who seems to be taken in by all the Hollywood glitz and glamour. She is also Jonah's girlfriend and soon-to-be fiance, provided the relationship manages to last that long. Riley gets her first taste of being in the spotlight while modeling as the regular girl chosen by designer Anton V.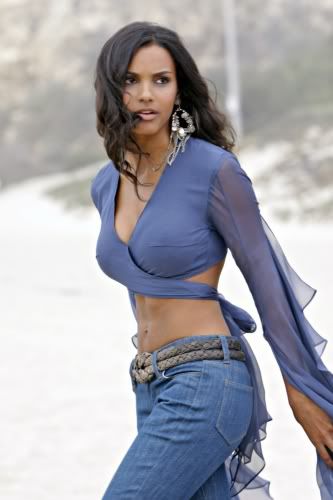 The secrets, deceits, and blackmail continue in the soap-opera style of the original Melrose, with members of the original cast mixing it up with members of a new cast of pretty people, on great sets, wearing awesome clothes, and embroiled in all the guilty pleasures that one expects from a show such as this. If anyone is looking for an escape from reality TV, then an excursion to Melrose is a respectable diversion.
Melrose Place airs Tuesday at 9:00 pm on The CW, with an encore airing Wednesday at 9:00 pm.